Three Course Dinner & Ghost Tour – $65
Tax & gratuity not included
Dinner Starts at 7 pm • Tour will begin after Dessert
Ghost Dinner Reservations can be made by calling the restaurant at 843-249-2601
We do not accept Ghost Dinner reservations through OpenTable.
A credit card is required to reserve your spot.
JANUARY
Tues. Jan. 17th
Thurs. Jan. 26th
FEBRUARY
Wed. Feb. 8th
Thurs. Feb. 23rd
MARCH
Wed. March 8th
Thurs. March 16th
Tues. March 21st
Wed. March 22nd
APRIL
Thurs. April 6th
Tues. April 25th
MAY
Tues., May 2nd
Tues. May 9th
Wed. May 17th
Thurs. May 25th
JUNE
Thurs. June 1st
Thurs. June 8th
Wed. June 14th
Thurs. June 22nd
Thurs. June 29th
JULY
Wed. July 5th
Thurs. July 13th
Wed. July 19th
AUGUST
Wed. August 2nd
Thurs. August 10th
Wed. August 16th
Wed. August 23th
SEPTEMBER
Thurs. Sept. 7th
Thurs. Sept. 14th
Thurs. Sept. 21st
Wed. Sept. 27th
OCTOBER
Tues. Oct. 3rd
Thurs. Oct. 5th
Tues. Oct. 10th
Thurs. Oct. 12th
Tues. Oct. 17th
Thurs. Oct. 19th
Tues. Oct. 24th
Thurs. Oct. 26th
Fri. Oct. 27th
Sat. Oct. 28th
Tues. Oct. 31st*
NOVEMBER
Wed. Nov. 1st
Tues. Nov. 7th
Thurs. Nov. 16th
DECEMBER
Wed. Dec. 6th
Thurs. Dec. 7th
* Special Times
5 pm, 6:30 pm,
7:30 pm & 8:30 pm
A dark fast shadow has been sighted several times passing by the upstairs bathroom into the front room.
It's been recently spotted going through the upstairs fireplace. Several witnesses saw a face in the upstairs window when no one was there.
Multiple Orbs in digital pictures. Sighing voices in the walls. Some say there are two ghosts, a lady and a man. Some say there are many more.
There is not much documentation on the house. We know the original owner, Essie Bessent-McCorsley used to charge fishermen $1.50 for a good night's rest and a hearty breakfast the next day. Today some have seen Essie's ghost looking out the window to see if there are fishermen coming for a room and hearty meal.
Our storytellers will guide you through the house, it's history and recent sightings of the spirits that wander throughout.
If you didn't believe in ghosts…
You will.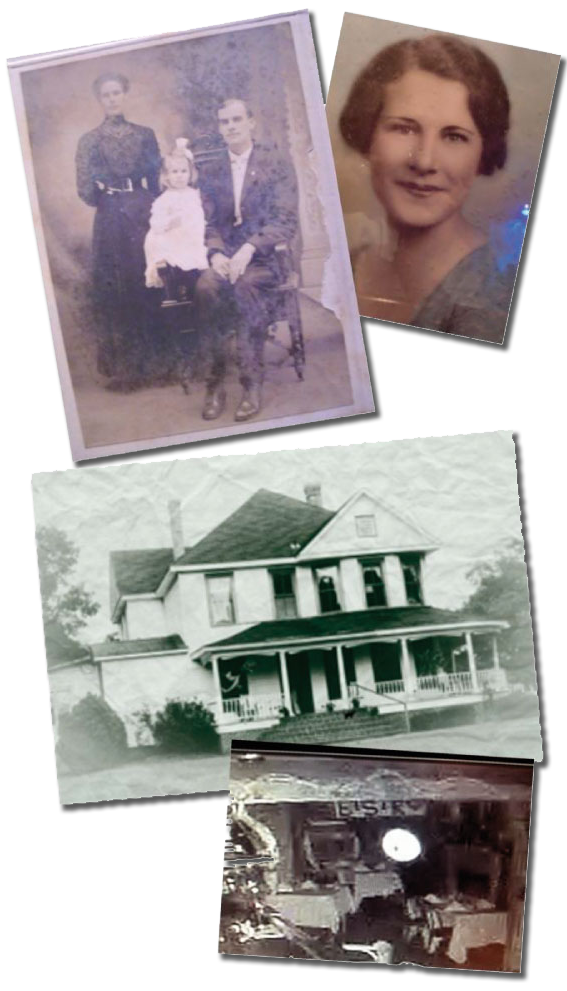 Sightings
A dark fast shadow has been sighted several times passing by the upstairs bathroom into the front room. It's been recently spotted going through the upstairs fireplace.
Several witnesses saw a face in the upstairs window when no one was there.
Multiple Orbs in digital pictures.
Sighing voices in the walls.
Ashtrays teetering on the edge of tables.
(Employees told us this story)
We no longer have ashtrays, now the wine glasses are just falling off the tables.
Customers coming in and swearing they "feel" something (upstairs).
Some say there are two ghosts, a lady and a man. Some say there are more.
A strange feeling in the upstairs bathroom. People have gotten locked in the bathroom.
Equipment starts by itself.
A small child appearing in the surveillance cameras next to the owner.
A shadow in the corner of the bathroom that disappeared as quick as it came.
People told us the Brentwood was haunted…
We didn't really believe them. Then after taking a Ghost Tour in Charleston, we knew what to look for. One thing that happens if you have a ghost is your phone has static. Well we have bought many phones, called the phone company and we get static like crazy. Okay, we are still not convinced. Then glasses started smashing and staff told us that before we purchased the Brentwood, ashtrays would always be found broken or teetering on the edge of a table the next day. Well, it still didn't convince us, we truly didn't feel like there was a ghost. Then one day when we moved the old picture in the men's room to the entrance, a glass fell from the bar very hard and broke in a million pieces! Now that got our attention. I started looking at pictures I took a while ago and sure enough there it was, an ORB! Is an orb a ghost? Read the excerpt below and you decide!
Are Orbs Ghosts?
Orbs are believed (by many) to be ghosts in the form of balls of light. They are life forms that travel in groups and are believed to be the human soul or life force of those that once inhabited a physical body here on earth. Psychics claim to talk to them on a regular basis, and ghost hunters encounter them quite frequently. It is said that they are those spirits that have willingly stayed behind because they feel bound to their previous life or previous location for whatever reason. Because of this obsession they tend to become similar to psychotic human beings. It should be said that the majority of us when we die proceed gladly and willingly to the next level of existence after saying our quiet good-byes, which means we're off to the spirit world. Then again, as stated, a select few elect to stay behind because of a refusal to move on. Apparently the longer they stay behind, the harder it is to find their way to the next level, which again, is the spirit world.
What are Orbs?
by Dave Juliano
One of the leading theories concerning what orbs are and the one that I lean towards the most is that they are not the spirit at all. The orb is the energy being transferred from a source (i.e. power lines, heat energy, batteries, people, etc) to the spirit so they can manifest. This may not even be a conscious thing the spirit is doing, just a natural way they get their energy. This would explain why the orbs are round balls. According to the laws of Physics energy being transferring like that would assume is natural shape of a sphere. This theory can also be tied into the EMF readings we get during spirit activity.
How The Brentwood Came To Be…
The details on the age of the house are not 100% clear. They possibly started to build the house in 1910 and finished in 1912. Those are the only two dates ever mentioned in past records. Back in the early 1900's Clarence Curtis McCorsley of the local Mercantile, married Essie May Bessent of Little River Traders (where Jay's Bar is now located). The Mercantile stood at what is now The Star Tavern next to Toby's Old World.
Clarence built a beautiful Victorian house for himself and his new bride across the street on the corner of McCorsley and Rt 17. It was a thriving little fishing village. There was a successful lumber company (Hammer) paying the men a $1 a day, they felt like millionaires! Essie was also surrounded by her large family who lived in the same area on Bessent Ave in Little River. They had four children, Lottie, Katherine, Clarence Jr., and Eugene. Clarence passed away at an early age, compared to our modern standards.
Essie was left with the large Victorian house during World War II. Clarence Jr. and Eugene, the youngest, went off to see the world in some type of patriotic way. Katherine attended nursing school and there are very few records for Lottie. We have to assume Essie loved the Brentwood House, as in order to maintain the house she operated a tourist home. Many salesmen and fishermen traveled through the area and stayed at Essie's Tourist Home. There would be people sleeping on the porch, probably due to a shortage of accommodations.
In 1974, Essie passed and the house did not remain in the family, as the children had moved out of the area. It was sold to Elbert T. Adams who lived there until he died of a heart attack on the golf course.
It sold in 1976 to Mary Platt who opened it as Aunt Mary's Restaurant with her daughter Charlene.
They lived upstairs in the house.
In 1978, they sold the restaurant to Pam Bellamy and she renamed it Grandma Mary's Restaurant. Pam raised a family in the house while operating the restaurant. The house was sold to Adrian & Dee Moore who opened the house as Papa Dees Restaurant.
In 1986, the house was sold to Bernard Gerstemeier who renamed it Abbey Green and ran it as a restaurant and guest house.
In the early 1990's the Stublick Brothers (from Brentwood, Long Island) and Irene Short purchased the house and did many renovations and opened it up in 1994 as The Brentwood Restaurant.
Today, as we move and breathe, the house has its own story to tell.
Scroll down to the video, "103011 PKG HAUNTED HOUSE BRENTWOOD," that we shot at Brentwood restaurant, and right at the 36-second mark, look to the left side of the screen. A little boy can be seen; however, there was nobody around when that video was shot. To date, it still makes us wonder who that boy was, and did we actually capture a ghost on film?
Scroll down to look at the picture a couple took on Halloween right outside the Brentwood Restaurant. Over at the top right corner, there's a looming shadow in the window. We don't have an explanation as to who it is or how they got there, but the fact that a figurine could be seen in this image remains a reality.